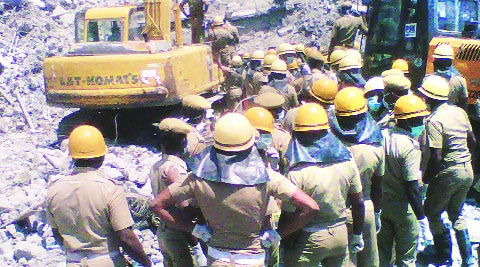 Rescue personnel at the site of the building collapse in Chennai. (Source: Express photo)
More than 700 personnel of the Tamil Nadu Fire and Rescue Services and NDRF have been working tirelessly since Saturday evening to rescue those trapped beneath the rubble after an 11-storey building collapsed at Moulivakkam here. None of them have returned home since that fateful evening.
By Thursday afternoon, the rescuers had managed to reach the ground floor and basement area. The machines removed only the heavy concrete slabs as use of heavy equipment might mangle the bodies below the rubble. So, officials used their bare hands to lift or push aside small debris and look for the bodies.
The stench of decomposed bodies was so overpowering that one worker had to step back every 15-20 seconds, while the other took his place. Another worker kept spraying air-fresheners.
"It is traumatic for the personnel as the retrieval of bodies has reached the ground floor beneath the rubble. While we were clearing the upper floors, we rescued 27 people. As we went further down into the rubble, we found the bodies of those who were trapped on the ground floor or the first floor. These people were crushed by the weight of the 11-storey building and their bodies were like thin paper cutouts. Retrieving them from beneath concrete slabs and crevices was a tough task because if you pull a little hard, the bodies were coming apart," said joint director of fire services S Vijay Shekar.
K Ramaswamy, another official, said it was the biggest mishap that TN fire and rescue services ever responded to. By the evening, four more bodies were recovered and the operation started winding down as there was no scope of finding anymore bodies or survivors. Fifty-seven people, all migrant labourers from Andhra Pradesh, Orissa and parts of TN, died in the mishap.
"Some of them (rescue workers) worked for 14-16 hours at a stretch; they took a break only after they completed their task. No one has gone home since five days," said NDRF DIG S P Selvan, whose unit is based at Arakomam, 70 km from Chennai.
A fire officer said, "I cannot describe the scene when we arrived about one hour after the mishap. Half the building fell towards the road and the other half fell on the back, including on a house. A couple who lived there died. We rescued 20 people who were able to call out for help on the first day. For two days, we did not use any heavy equipment which might crush survivors below. We used sniffer dogs, thermal imaging and manual search. After the sixth floor, it appeared there was no chance of recovering anyone alive."
Lauding the government, Kanchipuram and Chennai district administrations, Selvan said, "The Chennai Metro Rail immediately sent its cutters and machinery. There was no dearth of ambulances to transport those who were rescued."
indianexpress