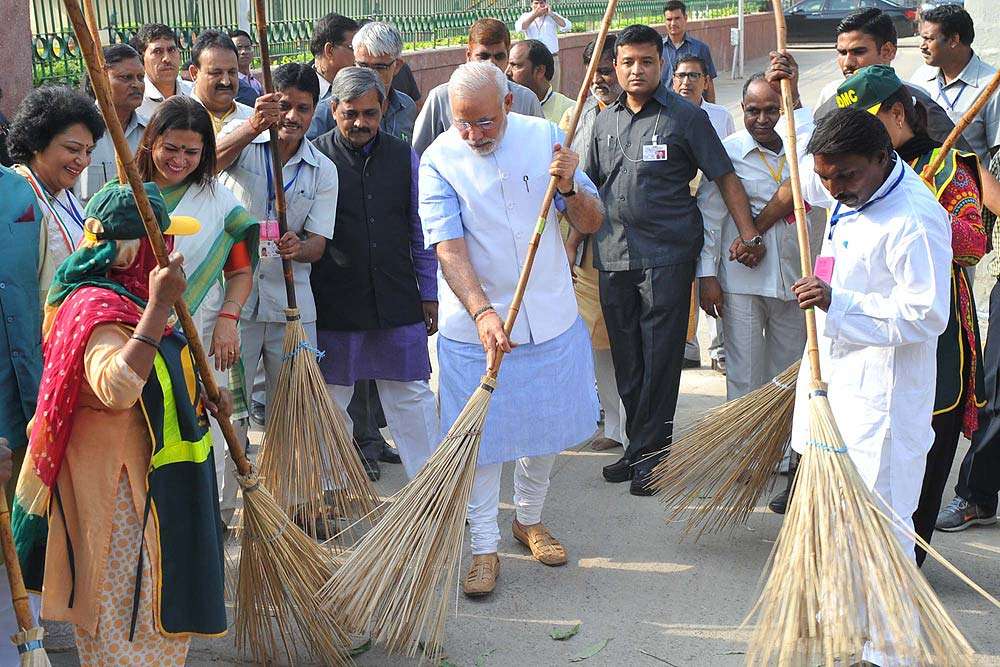 Bollywood superstar Salman Khan and Congress leader Shashi Tharoor have accepted Prime Minister Narendra Modi's 'Swachh Bharat' challenge to clean public places.
Modi yesterday appealed to people to dedicate 100 hours a year towards cleanliness, and as a part of which he also invited Bollywood stars Salman, Priyanka Chopra and Kamal Haasan to help clean public places.
The 48-year-old Dabangg star took to Twitter to accept the PM's invite.
"Me and my Foundation accept the invite from our honourable Prime Minister for Swachh Bharat and will give our 100 per cent for My Clean India," he tweeted.
Tharoor followed suit. "Honoured to accept the invitation of PM @narendramodi to join Clean India campaign. Just landed in Bucharest &heard d news. Action on return," he tweeted.
The second term Lok Sabha member from Thiruvananthapuram said he was on a flight to Romania when the announcement came and informed the Prime Minister's office about his trip.
"Informed @PMOIndia (that) I was on a flight to Romania to attend&address #BucharestForum when his announcement came. Back Sunday. Clean India is4all."
However, he mentioned that he was not a fan of tokenism and the challenge would be to sustain it beyond a week of photo ops.
"I am not a fan of tokenism. CleanIndia is a great campaign but challenge will be2sustain it beyond a week of photo ops. Mindsets must change," he tweeted.
While the Congress party had downplayed it, the inclusion of Tharoor among the persons mentioned by Modi came as a surprise to many.
Priyanka Chopra also showed her support for the cause yesterday by tweeting, "I humbly accept respected Prime Minster Narendra Modiji's challenge. This is an idea that is long overdue CleanIndiaCampaign.
"If we don't get involved and support this campaign, nothing can happen. But if we come together we can make a difference. Every action we take will be important. I want to make the change. I want a clean India. It's time to clean up our act."
Dhoom 3 star Aamir Khan also joined Modi's mission by taking the pledge with him at the India Gate to thousands of people, including schools children and government employees at Rajpath for remaining committed to cleanliness to make the country clean.
http://www.outlookindia.com/news/article/Tharoor-Salman-Priyanka-Accept-PMs-Clean-India-Invite/862519