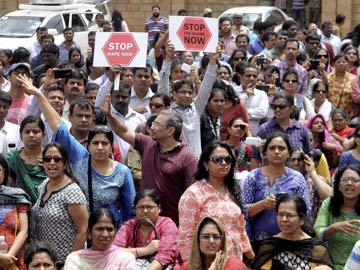 Bangalore:  Police have arrested a skating instructor for the alleged rape of a 6-year-old at an elite school in Bangalore, sources said.

Though an official confirmation is awaited, this is the first arrest in the case even though police had detained three persons during the course of investigation.  

The arrest comes after days of protest by furious parents even as the police is still looking for another accused in the case.  

The six-year-old first grade student was allegedly raped on 2 July by two gym instructors at the Vibgyor High School in the city.

Angry Parents in the IT hub have taken to the streets and social media, demanding tough action, not just against the alleged attackers but also against the school. 

Parents have alleged  school of gross negligence and putting the status of school ahead of the girl's welfare. 

As a "punishment" for misbehaving, she was reportedly asked to leave her class and stay in an empty room used for storing gym equipment. She was allegedly assaulted there.

Her mother found out about the assault seven days later, when a private nursing home hinted that the child could have been raped.
ndtv