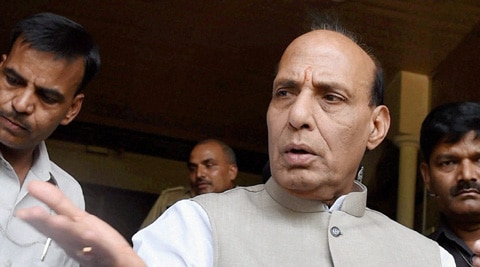 Union Home Minister Rajnath Singh
In line with Prime Minister Narendra Modi's policy for extended cooperation with neighbouring countries, including Pakistan, Home Minister Rajnath Singh asked officials to ensure Mutual Legal Assistance Treaty (MLAT) in criminal matters with as many countries as possible.
The government will also review the security provided to over 150 VIPs by the previous UPA regime following the completion of the Budget Session.
After the session, which ends August 14, the threat perception to all these VIPs will be reviewed and the list is likely to be pruned with a major cut in cover for those who used political clout to get the same, an MHA official said.
Home Ministry sources said that India has signed MLAT with 36 countries and another 15 are in the pipeline. Among the immediate neighbours, India is yet to sign MLAT with Nepal and Bhutan but so far Pakistan has not given any positive signals.
Though India, along with other Saarc countries, has signed a Convention on Mutual Assistance in Criminal Matters in 2008, New Delhi is keen that MLAT is also signed with individual neighbours.
Regarding the signing of treaty with Pakistan, a senior official explained, "the policy is equal with all neighbours. We had moved a proposal around two years ago also but Pakistan had not responded positively. We will prepare the groundwork and it will be raised during the meeting of the Indo-Pak Joint Commission as and when it happens"
The MHA is also keen to ramp up Joint Working Groups on counter-terrorism with other countries and groupings. The directions by the minister were given during a review meeting of the functioning of the Policy Planning Division. The Home Minister wanted that avenues for strengthening bilateral security relations with neighbouring countries be explored, a statement said.
MLATs generally allow exchange of evidence and information in criminal and related matters. In money laundering cases, they can be extremely useful as a means of obtaining banking and other financial records from treaty partners.
indianexpress.