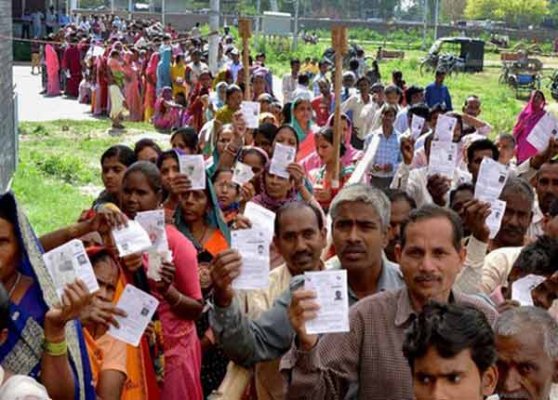 Srinagar/Ranchi: Polling is underway in 13 Maoist-affected constituencies of Jharkhand in the first phase of five-stage elections to the 81-member Assembly.
Polling is also undrrway for the first of the five-phased Assembly elections in Jammu and Kashmir as 12 sitting MLAs, including seven ministers, are among 123 candidates trying their luck in 15 constituencies spread in all three regions of the state.
Here we are giving you live updates of the first phase polling
08:00 am: Jharkhand: Four landmines recovered in Palam's Hariharganj
07:00 am: Polling begins in J&K and Jharkhand
While six constituencies in Jammu division are voting  to elect their representatives, electorate in five segments in Kashmir and four in Ladakh will seal the fate of the aspirants.
The Assembly segments going to polls today include Kishtwar, Inderwal, Doda, Bhaderwah, Ramban and Banihal (in Jammu division); Gurez, Bandipora, Sonawari, Kangan and Ganderbal (in Kashmir), Nobra, Leh, Kargil and Zanskar (in Ladakh).
A total of 10,502,50 voters, including 5,49,698 males and 5,00,539 females, besides 13 transgenders are eligible to exercise their right to franchise in the first phase of the polls.
Bhaderwah has the largest number of 1,04,354 voters among the 15 constituencies, while Nobra constituency in Ladakh region has the lowest number with 13,054 voters.
Nearly 1900 polling stations have been set-up by the election authorities in these 15 constituencies.
While Bandipora, Ganderbal and Bhaderwah have the highest number of candidates, 13 each, in fray, Leh has the lowest number of candidates with a direct fight between Congress and BJP.
There are four candidates in fray in Gurez, seven in Sonawari, 10 in Kangan, six each in Nobra and Banihal, four each in Kargil and Zanskar, 10 in Kishtwar, 12 in Inderwal, 11 in Doda and eight in Ramban.
Seven ministers are seeking re-election in the first phase – Nazir Ahmad Khan Gurezi (from Gurez), Mohammad Akbar Lone (Sonawari), Mian Altaf (Kangan), Sajad Kichloo (Kishtwar), Abdul Majid Wani (Doda), Nawang Rigzin Joa (Leh) and Vikar Rasool Wani (Banihal).
Besides the ministers who are all sitting MLAs, five legislators will be seeking a re-election in the first phase of polls.
PDP's Nizamudding Bhat (Bandipora), Congress candidates Ghulam Mohammad Saroori (Inderwal), Sharief Niaz (Bhaderwah), Ashok Kumar (Ramban) and National Conference's Tsetan Namgyal (Nobra) are the sitting MLAs seeking another term.
There was no militancy-related incident reported from any of the 15 constituencies going to polls today.
The separatist groups like all factions of Hurriyat Conference and JKLF have called for a boycott of the polls and called for a general strike as well
Ranchi: Stray incidents of violence took place during the campaigning as Maoists allegedly torched campaign vehicles in Chatra and Gumla districts, while two clashes erupted in Daltonganj.
Altogether 199 candidates are in the fray in the first phase of polling with BJP, Congress, JMM, JVM-P, RJD, JD(U), CPI, CPI(M), CPI(ML-Liberation) and other regional parties fielding candidates.
Prominent candidates trying their luck are Jharkhand PCC leader Sukhdeo Bhagat (Lohardaga), former state Minister and now on bail in connection with a disproportionate assets case Kamlesh Singh (Hussainabad) and former Jharkhand Assembly Speaker Inder Singh Namdhari's son Dilip Singh Namdhari from Daltonganj. Namdhari is pitted against Congress candidate and state Minister K N Tripathi.
In Chhatarpur (SC) seat, BJP has fielded Radha Krishna Kishore with RJD nominating Manoj Kumar, while former Maoist and ex-MP Kameshwar Baitha is contesting on an SP ticket.
Former Jharkhand Minister Sudha Choudhary is in the fray from the seat on a JD(U) ticket.
RJD's Jharkhand unit President and ex-Minister Girinath Singh is trying his luck from Garwha after being trounced in 2009 and is facing challenge from BJP's Satyendra Nath Tiwari, who defeated Singh on the previous occasion.
Former MP Brajmohan Ram is contesting on a BJP ticket from Latehar(SC), while JVM-P has fielded ex-MLA Prakash Ram and JMM has nominated Mohan Ganju from the seat.
In Panki, Congress has fielded Bidesh Singh, who won as an independent in the previous election and is pitted against BJP's Amit Kumar Tiwari and independent candidate Kushwaha Shashi Bhusan Mehta.
BJP has fielded its sitting MLA Harikrishna Singh from Manika (ST) seat with the JMM nominating Shilpa Kumar, Congress fielding Muneshwar Oraon and RJD giving ticket former MLA Ramchandra Singh.
For the Chatra(SC) Assembly segment, sitting MLA Janardan Paswan of RJD is pitted against former Minister Satyanand Bhokta of JVM-P, who quit BJP after being denied a ticket. BJP has fielded Jay Prakash Singh Bhokta, while JMM has nominated Manorama Devi for the seat.
Congress has fielded former IAS officer Binod Kispotta from Gumla(ST) Assembly seat, while JMM has fielded ex-MLA Bhusan Tirkey. BJP has dropped its sitting MLA Kamlesh Oraon and has nominated Shiv Shankar Oraon from Gumla.
In Lohardaga(ST), Sukhdeo Bhagat is pitted against sitting Ajsu party MLA Kamal Kishore Bhagat, who is being supported by BJP.
Bhanu Pratap Sahi, a Minister in the erstwhile Madhu Koda government, is contesting from Bhavnathpur and is facing a tough challenge from BJP's Anant Pratap Deo, who had won the seat on a Congress ticket last time.
BJP has fielded candidates in 12 of the 13 seats while allotting one to AJSU Party at Lohardaga as per the seat adjustment between them.
While BJP has two sitting MLAs in Gumla and Manika, AJSU Party had won the Lohardaga seat in 2009.
RJD, which is contesting in seven seats, has two sitting MLAs in Hussainabad and Chatra.
Though RJD is in alliance with Congress and JD(U), it is engaged in a friendly contest with JD(U) in Chhatarpur and Hussainabad constituencies.
Congress, which is contesting in seven of the 13 seats, is also locked in a friendly bout with RJD in Manika.  Congress has four sitting MLAs.
JMM is contesting in 12 seats, while Jharkhand Vikas Morcha (JVM-Prajatantric) has fielded candidates in 11 seats.  JVM is supporting Trinamool Congress candidates in Gumla and Manika.
The prominent parties in the fray are CPI (six), CPI-M (two), NCP (five), Independents (72), besides candidates of 53 registered parties.
http://www.indiatvnews.com/