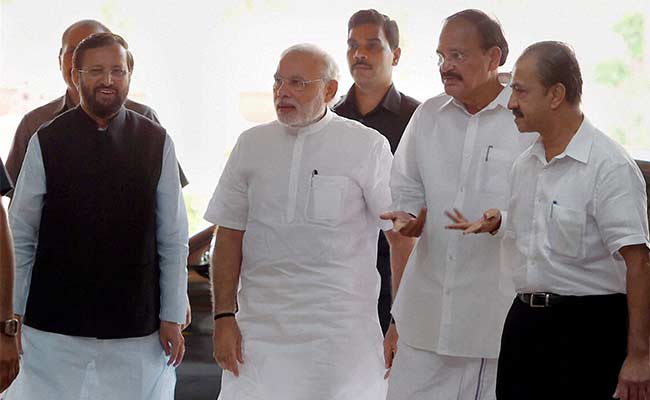 Prime Minister Narendra Modi with Parliamentary Affairs Minister Venkaiah Naidu and I&B Minister Prakash Javadekar at Parliament House on Saturday
New Delhi:  The Narendra Modi government faces its first test in Parliament as the Budget Session begins today. The Opposition is expected the corner the government on the issue of price rise and rail fare hike.

The Opposition parties made their intentions clear at an all-party meeting called by Speaker Sumitra Mahajan on Saturday.

The Opposition is also expected to raise the controversy over the government rejecting the name of former Solicitor General Gopal Subramanium for appointment as a judge of the Supreme court and the rape case controversy surrounding Union minister Nihalchand Meghwal.

The session will begin today and conclude on August 14.

"The session will have 28 sittings and 168 working hours. Since the Standing Committees for various ministries are yet to be constituted, the demands for grants for various ministries will be passed by both Houses by July 31 after discussion in Parliament instead of the committees," Ms Mahajan said after the meeting on Saturday.

"Government is willing to give full time to discuss any issue. They are ready to discuss every issue," she added.

Ms Mahajan also said that Lok Sabha proceedings in the session will have a new feature where the picture of members speaking will be shown on the screen to enable all members sitting even on front benches to see those speaking from the rear benches.

The Speaker, however, steered clear of all questions on the issue of granting Leader of Opposition status to the Congress.

Parliamentary Affairs Minister Venkaiah Naidu too said the government is ready for a discussion on any issue and appealed to the Opposition to "cooperate" to ensure that the decorum and dignity of Parliament is maintained and the House business was carried out smoothly.

"We will be taking up the General Budget, Railway Budget and also willing to discuss any issue of national importance… the government will also make a statement on the situation of Indians in Iraq. External Affairs Minister Sushma Swaraj will make the statement in both Houses," Mr Naidu said on Saturday after the luncheon meeting.

The government also intends to bring bills to replace the Telecom Regulatory Authority of India or TRAI (Amendment) Ordinance, 2014 and the Ordinance with respect to Polavaram project under Andhra Pradesh Reorganisation (Amendment) Ordinance, 2014.

The TRAI (Amendment) Ordinance cleared on May 28 ensured that the government could appoint Nripendra Misra as Principal Secretary to the Prime Minister. The Andhra Pradesh ordinance was promulgated on May 29, ahead of the official division of the state on June 2.

Mr Naidu also said that Commerce Ministry will be bringing a bill on the National Institute of Design.

Various pending bills will be reviewed and priority will be fixed on bringing them before Parliament in coordination with Opposition members, he added.
Ndtv