J&K Election Results LIVE: Jammu and Kashmir house split down the middle; BJP, PDP lead in same number of seats –
In an indication of emergence of new alignments in Jammu Kashmir, BJP and the PDP were neck to neck in race for emerging largest party during the counting of votes polled in 87 assembly constituencies across Jammu Kashmir. While pdp was leading in 26, followed by BJP (22), National Conference (20) during the latest trends coming during counting of votes in all the 87 assembly constituencies across the sensitive border and militancy infested state. The Congress, which decided to go alone in the polls after sharing power with NC for six years, was at number four position with its candidates leading at 14 places. Others were leading in five constituencies.
While the counting of votes was still in progress, the trends show that there was going to be a hung assembly in the state. The PDP was emerging largest party in Kashmir Valley and having made inroads in Congress bastions like Nowshera in Jammu. Similarly, BJP was emerging largest party in Jammu region decimating many Congress and Panthers Party stalwarts. The Panthers Party which had won three seats of Udhampur, Ramnagar and Samba during 2008 assembly polls, was not likely to retain any as its candidates were trailing at all the places.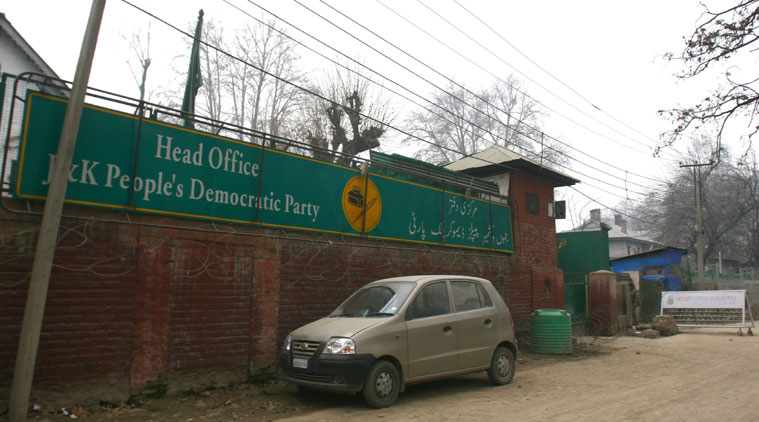 Jammu and Kashmir election results Live: PDP office in Srinagar. (Source: IE photo) –
BJP spokesperson Balbir Ram said that going by  emerging trends, it appears that the party will be able to achieve majority and form its first ever government in the state. "We are leading by a huge margin in 21 constituencies as per the counting trends so far," he added – With counting still in progress, BJP workers have begun celebrations over trends showing party having its highest ever tally in the new Legislative Assembly in Jammu Kashmir. – PDP leads with 28, BJP 24, Congress 17 and JKNC 11. – PDP leading with 26 seats, followed by BJP at 23, Congress 17, JKNC 12. – Omar Abdullah leading by 2000 votes in Beerwah.
Batamaloo assembly segment: PDP 9269, NC 6324, BJP 275.
– Hazratbal Srinagar: PDP 3824, NC 3441, BJP 190, NOTA 129.
– Eidgah Srinagar: NC 4516, PDP 3196, NOTA 105.
– Jammu and Kashmir Chief Minister Omar Abdullah was emerging as the lone hope for ruling National Conference in five seats of Budgam district of central Kashmir where PDP was leading in three seats while Independent  candidate in one.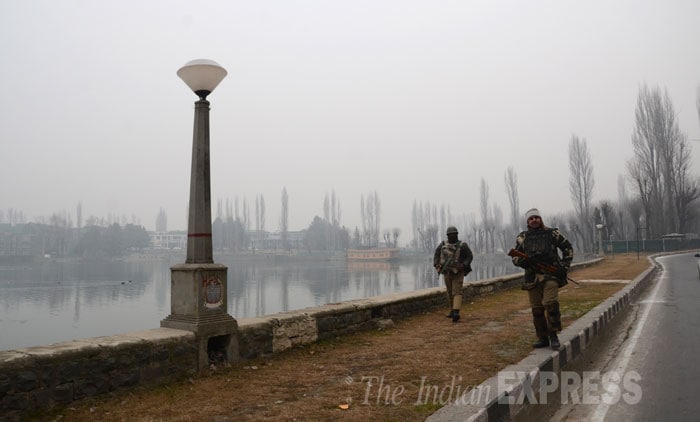 Security personnel patrolling outside
in five seats of Budgam district of central Kashmir where PDP was leading in three seats while Independent  candidate in one.
– Congress all set to win separatist bastion Sopore.
– Omar trailing by more than 3500 votes at Sonawar.
– National Conference state vice president Rattan Lal Gupta described the present trends in Jammu Kashmir as the outcome of Narendra Modi wave in Jammu Kashmir. Pointing out that it was Congress' decision to part ways from National Conference and go to the polls alone that cost both the parties in the state. However, the National Conference, going by the poll trends, is not likely to lose much ground in the state, he added.
– Lone said he would want to contribute constructively in any government and win again after six years.
– "This is my first Assembly election. I will be very honest with you. I am very nervous," said Sajjad Lone.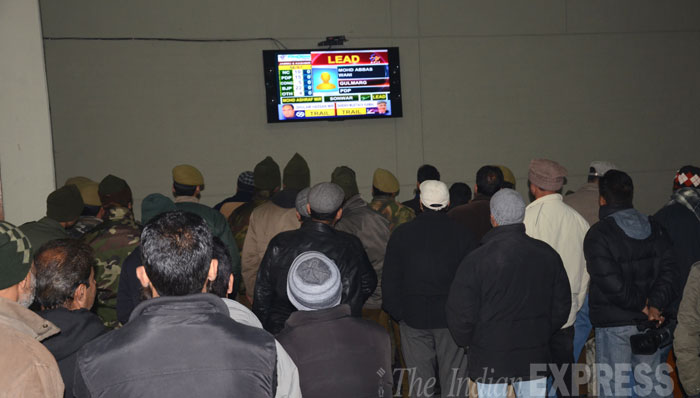 People checking the election results live in Srinagar at a polling booth. (Source: Express photo by Shuaib Masoodi)
– "I have all along maintained that we want to maintain a humble entry into the Assembly. It could be one (seat), it could be three, it could be four. We are not looking beyond hat. I am keeping my fingers crossed": Sajjad Lone
– The Congress loss in Jammu region appears to be resulting in gain for BJP and also to PDP to some extent.
– BJP leading by 24, PDP 22, JKNC 18, Congress 17.
– PDP leading in Pattan(North Kashmir).
– Tourism Minister trailing in Dooru.
– PDP leading by 24, followed by BJP at 23, JKNC 17, and Congress 16.
– Omar leading in Berwah but trailing in Sonwar by more than 4000 votes.
– BJP, PDP neck-and-neck at 23, followed by JKNC at 17, Congress 16.
– BJP leads in Leh.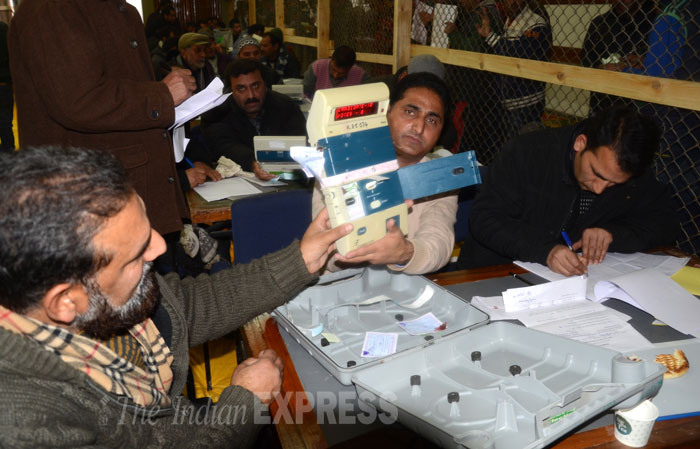 Poll officials showing the EVM before opening it for counting. (Source: Express photo by Shuaib Masoodi)
– BJP State Media Incharge Altaf Thakur: Let us wait for the results.We are confident that we will win seats in Kashmir
– PDP leading in Shopian(South Kashmir). – PDP leading by 24, followed by BJP at 23, JKNC 18 and Congress at 15. – NC minister Sajjad Ahmed Kitchloo, who polled 4,357 votes, was leading over his nearest rival Sunil Sharma of BJP by 1,787 votes, who polled 2,570 votes in Kishtwar constituency. – NC minister Ajay Kumar Sadhotra was trailing BJP candidate Sukhnandan Choudhary by a margin of 6,321 votes