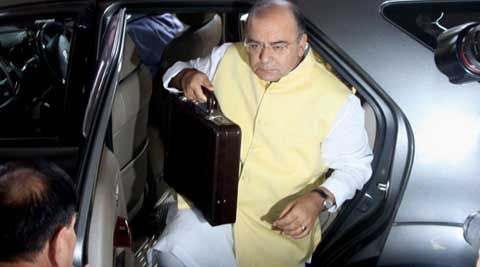 Finance Minister Arun Jaitley presented maiden Budget of the Modi government in Parliament today. (Source: Express Photo)
Presenting the first budget of the NDA government on Thursday, Finance Minister Arun Jaitley stuck to three goals he put up on his Facebook post.
He concentrated on fiscal consolidation, delivering against all expectations a fiscal deficit target of 4.1 per cent of the GDP. By keeping government borrowing low and additional taxes only on spending items like dividends and cigarettes, Jaitley hopes inflation will remain low, reward savings and investment, and so push growth.
He will also hope his performance makes RBI Governor Raghuram Rajan cut rates, and please investors further. Yet he made clear that this budget will not be a please-all, and it showed. "The steps I will announce… are only the beginning of a journey towards a sustained growth of 7-8 per cent or above within the next 3-4 years," he said early in his speech.
To achieve the troika — of restoring the pace of growth, containing inflation and concentrating on fiscal consolidation — he has raised the foreign direct investment cap for insurance and defence to 49 per cent, imposed an additional 3 per cent tax on dividends, given a host of protectionist duties on imports to spur domestic manufacturing, taxed cigarettes, travel by radio taxis, advertising through mobiles and online media and import of coal. He has restricted the sops only for domestically-manufactured LCD and LED TVs, mobiles and footwear.
His tax exercise leaves him poorer by Rs 14,675 crore but he has stuck close to the ambitious estimate of predecessor P Chidambaram of a nearly 20 per cent rise in tax revenue despite a nominal growth rate of only 13 per cent in economy in FY 15.
Jaitley expects to make up the slack with mop-ups, non-tax revenues including the revived Kisan Vikas Patras, which is like a bearer bond and was used to soak up black money earlier in the last decade, and Rs 50,000 higher tax breaks for investment in Public Provident Funds.
The market reacted positively to his stitching of the budget. While it tanked initially when he announced that the retrospective tax on companies like Vodafone will stay, the mood changed when he declared that capital gains made by portfolio investors will not be taxed at the higher rate of business income at all and followed it up with tax breaks for a host of manufacturing sector companies.
The BSE Sensex made an intra-day move of 609 points or 2.4 per cent to close almost flat at 25,372 points.
Among the things Jaitley surprisingly skipped was a date for the rollout of GST and a plan to cut subsidies. On GST, he pointed to objections by state governments and said: "I assure all states that the government will be more than fair in dealing with them."
Because of the financial straitjacketthe minister's more than two-hour speech was littered with token allocations for a host of institutes from AIIMS, IIMs to agriculture universities and cultural institutions. He made large spending announcements for only two sectors — the roads programme with Rs 37,880 crore and Save Ganga with a cumulative investment of Rs 8,000 crore including waterways.
indianexpress.