A R Rahman, the only Indian musician to ever receive Oscars has been an inspirationall around the world. His contemporary style captures the soul of music. Ever wondered what happens when someone tries to re-create his perfect songs? Well, Berklee College of Music's Indian Ensemble recreated two of his most beautiful songs, "Jiya Jale" and "Yeh jo des hai tera", flawlessly.
Jiya Jale Berklee tribute to A R Rahman:
Berklee Indian Ensemble and Berklee World Strings Ensemble came together to produce cover for "Yeh jo des hai tera". In an email interview, Berklee's MediaRelations officer Liz Lupton said that there were 65 participants representing 22 countries for this particular cover with A R Rahman as the special guest. "The fact that Mr. Rahman agreed to record on this piece was a great honor and privilege for all of us at Berklee," wrote Liz.
Annette Philip the Ensemble Director had originally planned to go with "Vande Matram", but instead chose to go with the song from "Swades". However, "the students and faculty rehearsed both songs, and unanimously voted to record 'Yeh Jo Des Hai Tera' for the music video. 'Vande Mataram' was performed as the finale of the Symphony Hall concert, and also featured Mr. Rahman," Liz added. Students of Berkelee Indian Ensemble have had an opportunity to interact and be mentored by A R Rahman. The students also paid him a tribute in a concert produced by Annette Philip, Prasanna and Mohini Dey.
To a non-musician but a music lover this would come as a surprise that there are remarkable differences between the original song and the tribute. Although the lyrics are same, most of the other musical elements have been added or alternated. For example, the key of the tribute version is higher than the original, instruments like Suona and Udu drum were used instead of Shehnai and Ghatam (South-indian percussion instrument), etc.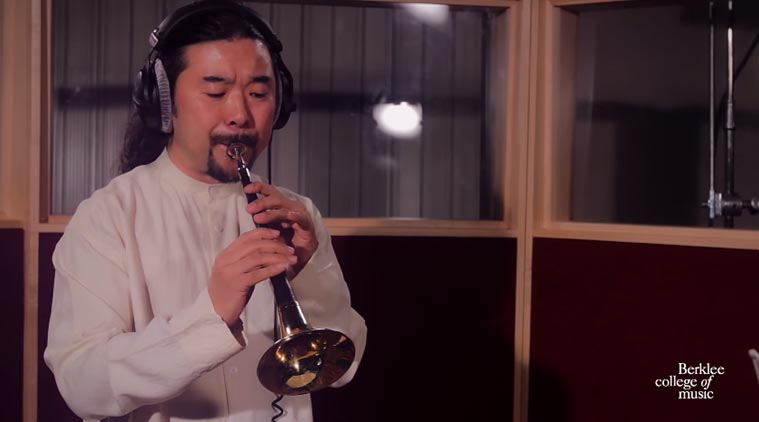 (Source: Berklee College of Music/YouTube)Talking about the overall experience with the cover production Liz wrote, "Mr. Rahman's music was a delight to explore, as it covers so many styles, from Sufi music to rock, to electronic elements, not to mention incredibly beautiful, haunting melodies."
Hope you enjoy the song, because we did:
ALSO READ