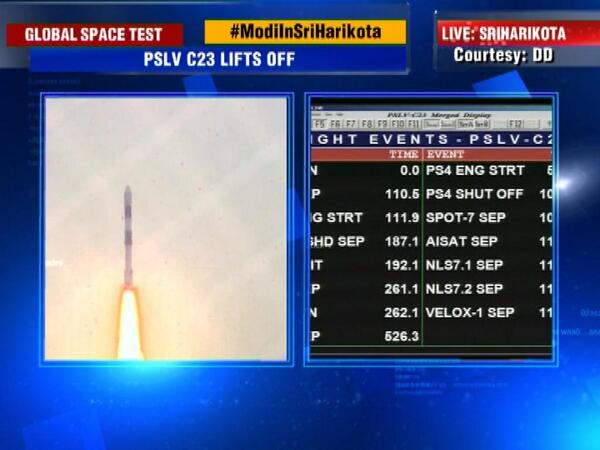 Chennai: India's national space agency ISRO on Monday launched five satellites from four countries from the spaceport of Sriharikota in presence of Prime Minister Narendra Modi who witnessed the event. 

Addressing the scientists at Sriharikota Space Center, PM Narendra Modi congratulated the scientists for the successfull launch. 

He said, "I feel privileged to have witnessed this event in person". 

The launch of rocket Polar Satellite Launch Vehicle (PSLV-C23) lifted off from Satish Dhawan Space Centre in Sriharikota at 9.52 am today. 

The 49-hour countdown for the launch was progressing smoothly and preparations for Mobile Service Tower withdrawal to the parking end were also under progress, ISRO said. 

Speaking to ANI, former ISROChairman Madhvan Nair said, "PSLVC-23 launch will be a major stepping stone towards centering space commerce". 



The five satellites are from four countries – France, Germany, Canada and Singapore. 

Besides its main payload of 714 kg weighing French Earth Observation Satellite SPOT-7, PSLV C23 would carry 14 kg AISAT of Germany, NLS7.1 (CAN-X4) & NLS7.2 (CAN-X5) of Canada each weighing 15 kg and the 7 kg VELOX-1 of Singapore. 

NLS 7.1 and NLS 7.2 are from the University of Toronto, Institute of Aerospace Studies/ Space Flight Laboratory. Canada. Both payloads would fly in precise formation using differential GPS with centimeter-level accurate position control system. 

VELOX-1 from Nanyang Technological University, Singapore is a technology demonstrator for design of image sensor, MEMS-based attitude determination and control system and inter-satellite RF link. 

The satellites are being launched under commercial arrangements that Antrix Corporation has entered into with the respective foreign agencies. 

India had launched another French satellite – the 712-kg SPOT-6 in 2012. The latest in the SPOT family of satellites is the SPOT-7.