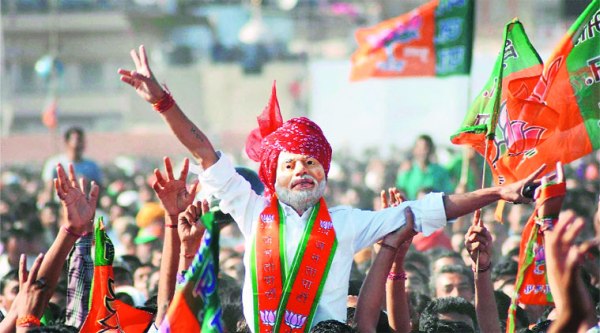 BJP supporters at Prime Minister Narendra Modi's rally at Udhampur on Friday. (Source: IE picture by Mukesh Gupta)
Congratulating the people of Jammu and Kashmir for voting in large numbers in the first phase of assembly elections, Prime Minister Narendra Modi Friday asked people to vote in a BJP majority government to rid the state of corruption.
Addressing a nearly 70,000-strong crowd at Battal Ballian, Modi said: "Yeh log bullet ke kor se ballot ko dabaye hue they. Pehli baar yahan ki janta mein takat aayi hai ki unhone bullet ko daba kar ke ballot ka parichay karvaya hai (This is the first time people have shown courage and defied the bullet and introduced ballot to those who suppressed the ballot with the bullet)."
He added: "Aatankwadi bokhlaye hue hain… unko lagta hai ki itney bomb bandookey chalai, itne logo ko mara, lekin bheetar se loktranta ki takat zinda hai (Terrorists are nervous because after so much of violence and killing of innocents, the strength of democracy is remains deep rooted).
The Prime Minister added that the high turnout in the first phase of polls has made it clear to the world community as to what people wanted.
The crowd, which included a large number of Muslims, kept chanting 'Modi-Modi' during the half-an-hour address.
In Poonch, nearly 30,000 people turned up for the PM's address.
Referring to his frequent visits to the state, during floods and on Diwali, Modi said he was not doing it for politics or votes, but to put the state on the path of development and prosperity.
"Over the last 30 years, the state's journey on the path of development has come to a standstill and corruption, loot and blackmail has become a habit of politicians here,'' he said.
He added that previous governments at the Centre felt that merely sending funds would keep things going. "We have now decided that while there will be no dearth of central funds for the state, it will be ensured that these are utilised properly," he said. Referring to criticism from National Conference, Congress and the PDP, the PM said: "As I have tightened the screws, all the parties have started criticising me as Modi has become a hurdle in their politics of loot," he added.
He also invoked former PM Rajiv Gandhi's statement that only 15 paise of every rupee released from the Centre reached the people of the state. "I did not say it. It was said by a Congress PM at a time when the party was in power across the country, from panchayats to Parliament," he added.
He said the people of J&K would have become the richest in the country if, over the last 30 years, the Centre would have deposited the funds directly in their individual accounts.
– See more at: http://indianexpress.com
'It has taken almost 40 years for a PM to come to
Poonch': PM Modi
Am the only PM who has come to J&K every month, says PM Modi