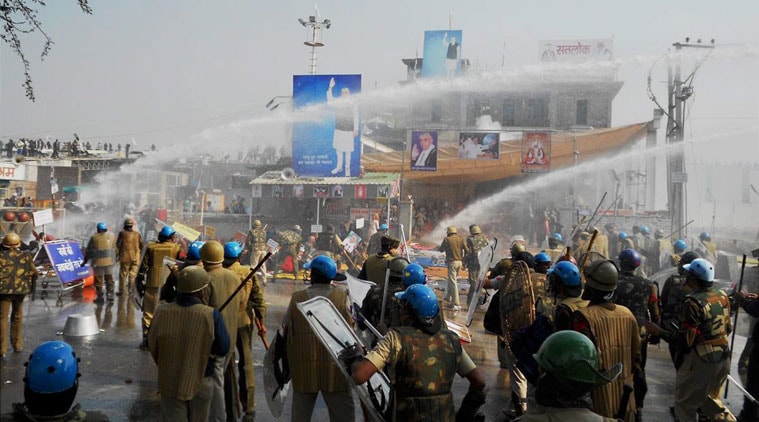 Police and Sant Rampal's followers indulge in violent clashes at Satlok Ashram in Hisar on Tuesday. Supporters of Rampal indulged in clashes with the police to resist his arrest. (Source: PTI Photo)
Ending a standoff that lasted a couple of days, the Haryana Police on Wednesday night picked up Sant Rampal from his ashram in Hisar. They have since moved him in an ambulance to Chandigarh.
CRPF personnel and top officers of the Haryana police barged into the ashram and finally captured Rampal and placed him under arrest. According to the preliminary reports, an ambulance was called Rampal's medical condition was not good.
HIGHLIGHTS: 'Godman' Sant Rampal arrested by police inside Hisar ashram; moved to Chandigarh in an ambulance The controversial 63-year-old baba will produced in a Hisar court on Thursday, Superintendent of Police, Panipat Satish Balan said. Police arrested Rampal from Satlok ashram where four women died mysteriously and two others in hospital in the midst of a showdown. Haryana Police slapped fresh cases, including the serious charge of sedition, against Rampal. READ: 'Godman' Rampal slapped with sedition charge Earlier in the day approximately 15,000 persons were evacuated from the ashram premises and helped to return to their homes in different states. The postmortem examination of Rajni from Lalitpur in UP, Malkiat Kaur from Shekhpura in Punjab's Sangrur, Savita from New Delhi and an 18-month-old child has been completed. According to preliminary reports, no injury marks were found on the bodies.
PCI appoints panel to probe attack on media persons in Hisar. Read full story here Postmortem of the other two bodies is continuing at the Medical College in Agroha. Executive Magistrate Amar Chand Kaushik is overseeing the proceedings. Meanwhile, more than 450 persons have been arrested under various sections of the IPC and the Arms Act. Top 10 developments: Police crackdown at self-styled 'godman' Rampal's Hisar ashram The arrested persons include main supporters of Rampal including Ram Kumar Dhaka, Baljit, Ravinder, Lokesh and Purshotam. Earlier, the Centre appeared to be unhappy over the way the issue was being handled. Union Minister Rajnath Singh is understood to have told Haryana Chief Minister M L Khattar to end the standoff quickly.
"The state government is proceeding carefully and cautiously to arrest Sant Rampal," Khattar had said. While the clashes on Tuesday left over 200 injured, police on Wednesday announced that bodies of four women were handed over to them by the ashram staff. Another woman and a one-and-a-half year old baby were taken in serious condition to a hospital where they died.
With PTI inputs –
http://indianexpress.com/article/india/india-others/hisar-standoff-comes-to-an-end-with-rampals-arrest-moved-to-chandigarh-in-an-ambulance/#sthash.TPzhDv0j.dpuf