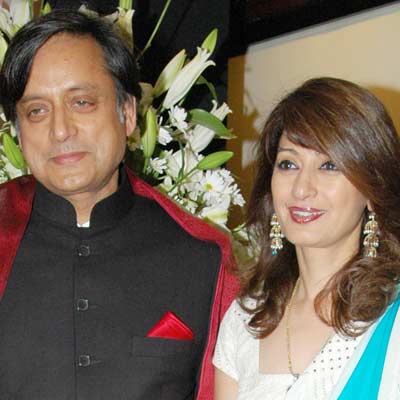 Circumstances around the death of Sunanda Pushkar, wife of former Union minister Shashi Tharoor, got murkier on Wednesday after the hospital where her autopsy was done refuted claims by one of its top doctors that he had been pressured to fudge the post-mortem report.
Dr Sudhir Gupta, head of the All Indian Institute of Medical Sciences' (AIIMS) forensic medicine department who led the autopsy team, had reportedly claimed that a ministerial colleague of Tharoor had asked him to pass off Pushkar's death as natural.
But AIIMS authorities on Wednesday said they had neither put any pressure on Gupta nor did they know of any outsider doing so.
"We have no evidence that he was under pressure from outside and how he reacted to that," Neerja Bhatla, AIIMS' media and protocol department head, said.
The institute did not rule out disciplinary action against Gupta, saying, "if AIIMS feels or if we get any directive then action will be taken as per rules".
Gupta has written to Union health minister Harsh Vardhan that he did not buckle under pressure and had issued a factual report – "sudden and unnatural" death due to drug poisoning, which could be either suicidal or homicidal.
File photo: Union minister Shashi Tharoor's businesswoman wife Sunanda Pushkar. (PTI)
Read: Tharoor, forensic doctor will be examined if needed: Police
Besides writing to the health ministry, Gupta had also filed an affidavit before the Central Administrative Tribunal against a move to replace him as head of AIIMS' forensic department, saying the previous Congress-led government had initiated the process because he did not change the post-mortem report. Tharoor was the former Union minister of state for human resources development.
Pushkar was found dead in a room of a luxury city hotel on January 17, days after a very public Twitter controversy involving her, Tharoor and a Pakistani woman journalist she accused of having an affair with her husband.
As news of Gupta's letter broke, Harsh Vardhan said on Wednesday he had ordered AIIMS authorities to submit a report on the doctor's allegations. Delhi Police Commissioner BS Bassi also said they would examine any new, relevant development in the case and, if need be, question Tharoor and Gupta.
Read: Sunanda Pushkar died an unnatural sudden death say AIIMS doctors
In a short statement posted on his Facebook account, Tharoor, an MP from Kerala, said: "I reiterate my request to bring this protracted inquiry to a clear and definitive conclusion at the earliest, so as to put all speculation to rest."
After the initial autopsy by Gupta's team at the AIIMS, the state-run Central Forensic Sciences Laboratory conducted the viscera and toxicology tests, concluding that the death was natural, perhaps from cardiac seizure triggered by a combination of factors, including Pushkar's stressful lifestyle and medications.
Gupta has refused to comment on his allegation, saying he has already stated the facts before the "competent" authorities.
"It is a legal matter, a serious issue. I cannot share with the media. I am a government servant."