Da Parbatia Temple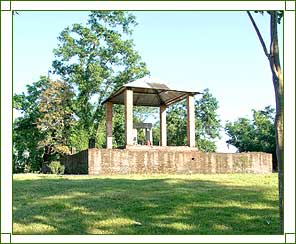 Location:
6 km to west of Tezpur
Highlights:
Pilgrim centre
Tezpur, the city of mythology, folklore, and legends, is situated in the Sonitpur district of Assam. Situated amidst lush green valleys and lofty snow capped peaks of the Himalayas, the city is the ultimate travel destination of every tourist and nature lover. A few kilometers west of the city are the remnants of one of the oldest and the finest illustrations of sculptural or iconoclastic art in Assam – Da Parbatia Temple. The carvings and imprints on the doorframe of the temple bear the typical pattern of the early Gupta School of sculpture.
The doorjambs of Da Parbatia Temple are adorned with the forms of two Goddesses, Ganga and Yamuna, standing with elegance and poise, with garlands in their hands. Besides this, the whole doorframe is also ornamented with beautiful and delicate foliage. Due to its exquisite architecture and elegant carvings belonging to the 5th and 6th centuries AD, the place is now a protected site under the auspices of the Archaeological Survey of India.
Commuting to Da Parbatia Temple is quite easy and convenient. The city of Tezpur is connected through well-maintained airways, railways and roadways. For the purpose of lodging, the Assam Tourism Department has provided full furnished tourist lodges with modern amenities. Besides this, tourists and travelers can also avail the comfortable accommodation facilities offered by the Dak Bungalows and the Circuit House in the Tezpur city of Assam.