Chennai: Heavy Rains forecasted for 4 more days
Heavy rains today pounded several parts of Tamil Nadu and inundating most areas of Chennai, severely disrupting flights, train and bus services and forcing postponement of half-yearly school exams even as the state braced for more showers in next four days.
As the death toll in rain-related incidents touched 188, Chief Minister Jayalalithaa reviewed the situation and deputed ministers to inspect the affected regions.
Half-yearly exams in schools, which were to have begun on December 7, were postponed. Schools were closed today and will remain shut tomorrow as well.
All flight operations at Chennai airport have been partially suspended until further review and a number of flights have been disrupted as waters inundated the runway and the tarmac. Airport officials said one flight, which had left Colombo this morning, returned. SpiceJet and Indigo tweeted saying the airfield had been closed due to flooding.
Motorists had a tough time as not only arterial roads like Anna Salai and, GST Road were inundated but also many interior roads. Also, many roads were damaged, with several of them caving in inconveniencing motorists.
Puducherry and its suburbs continued to be lashed by heavy rains since last night and it recorded 15.2 cm rain in the last 24 hours ending 08:30 hours today.
Two columns of army's Garrison Infantry Battalion have been pressed into service in Tambaram and Urapakkam after the Tamil Nadu government sought military assistance. The Navy is also on stand-by.
National Disaster Rescue Force has already dispatched ten teams of which four are already in Chennai and the rest will be flying in tomorrow. "At the same time, we are also requisitioning teams from Bengaluru and Andhra Pradesh," NDRF chief O P Singh said.
Rescue work will begin and NDRF would deploy more teams if required. Teams carrying boats will also be sent to Kancheepuram and Tiruvallur districts.
Chennai deluged
Chennai City seems to be heading for a crisis of sorts as the government has started releasing 20,000 cubic feet per second of water from Chembarambakkam reservoir into Adyar. This is the highest volume of outflow from the reservoir in several years. On November 17, a day after the city received over 25 centimetres of rainfall, Public Works Department released 18,000 cusecs of water from the reservoir.
Chennai Collector E. Sundaravalli has issued a flood warning and appealed to families living along the Adyar river to move to safer places. Earlier in the day, it was increased to 5,000 cubic feet per second. The outflow was just 900 cusecs on Monday evening.
After pounding and battering the city for a month, heavy rains resumed overnight on Monday after a brief break for four days. For the 24 hours ending 8.30 a.m. on Tuesday, the rainfall level recorded in the city was 3 centimetres. Between morning and noon, the city received more than 8 centimetres, officials said.
Suburban train services on the Chennai Beach-Tambaram sector were crippled. Services on the Chennai Central-Tiruvallur sector were also disrupted. Arterial roads were flooded and traffic was affected.
Expect more rain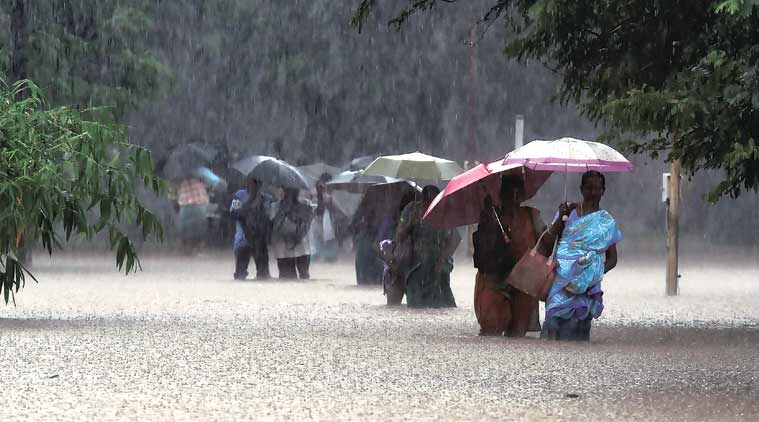 Heavy rains lashed parts of Tamil Nadu, including Chennai, and neighbouring Puducherry, disrupting flight movement and leaving several areas inundated.
The picture looks no better for Wednesday with the weather office forecasting heavy to very heavy rainfall for Tamil Nadu, especially over the northern districts of Chennai, Tiruvallur and Kancheepuram.
It also forecast heavy rains for Puducherry.
"The trough of low pressure now lies over Southwest Bay adjoining Sri Lanka off Tamil Nadu," officials at the Regional Meteorological Centre (RMC).
Under its influence, widespread rains are expected across the State on Wednesday, with the possibility of "scattered heavy to isolated very heavy rainfall over coastal districts," they said.
The weather office forecast "isolated extremely heavy rainfall" for Chennai, Kancheepuram and Tiruvallur which have been already been facing the brunt of the northeast monsoon since last month.
Chennai Helpline Numbers
Navy/Army Helplines
Indian Navy's helpline number in Chennai: +914425394240
The Indian Army's helpline: 9840295100
For Flood Rescue: call Major Surya Kumar G (Indian Army) – 0 83940 00074
Helplines for boat services:
Ola Boats: 7708068600;   NTL Boat helpline: 7708068600
Chennai corporation helplines
Emergency Toll Free Number: 1910, State Emergency: 1070, District Emergency: 1077, Electricity:1912, Fire & Rescue: 101, Ambulance: 108, Tree fall, waterlogging – 1913, Sewage overflow – 45674567, 22200335
Other Helpline Numbers:
Tiruvottiyur : 09445190001, Manali: 09445190002; Madhavaram: 9445190003, Ambattur: 9445190007; Tondiarpet: 9445190004, Royapuram: 9445190005; Annanagar: 9445190008, Teynampet: 9445190009, Alandur: 9445190012, Adyar: 9445190013,Perungudi: 9445190014
Flood Control Room: 28593990, 044-28410577,9445869843/47
Chennai Floods: City crippled, all flights cancelled, Army, NDRF deployed
Chennai rains: Buses and suburban train services hit
Heavy Rain in Tamil Nadu Again
Chennai Flooded – Army, Air Force Deployed for Rescue
Chief Minister Jayalalithaa announces Rs. 500 crores for rain-hit districts