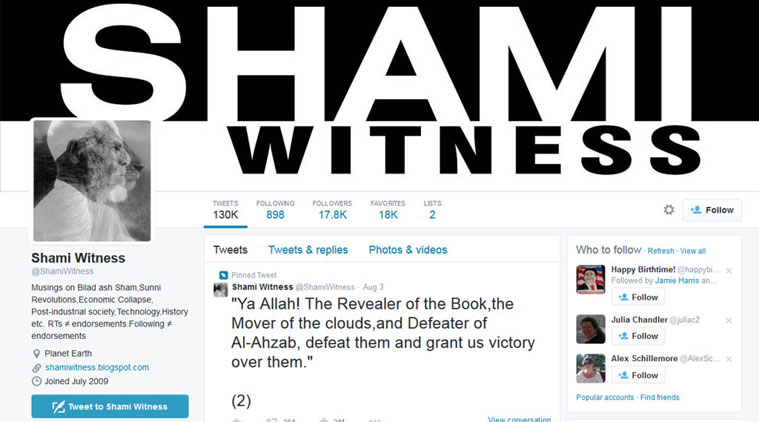 The account, which is now no longer operative, had over 17,700 followers, making him "perhaps the most influential Islamic State Twitter account". (Source: Channel 4)
By:
Express News Service
| New Delhi | Posted: December 12, 2014 1:03 pm | Updated: December 12, 2014 1:07 pm
The individual operating the Islamic State (IS) propaganda Twitter handle @ShamiWitness is based in Bangalore, Britain's Channel 4 News reported on Friday.
"The man operating the account is called Mehdi and he is an executive in Bangalore working for an Indian conglomerate," Channel 4 said, adding that it had "chosen not to reveal (the man's) full name as he says his life would be in danger if his true identity was made public".
The account, which is now no longer operative, had over 17,700 followers, making him "perhaps the most influential Islamic State Twitter account", Channel 4 said. The tweets, the report said, were seen two million times each month.
"Two thirds of all foreign fighters on Twitter followed him. When a fighter's Twitter account is suspended, he often promoted the new one and urged people to follow it," the report said. "He spoke to British jihadis regularly, before they leave to join the Islamic State, after they arrived, and if they died he praised them as martyrs."
The name Shami is derived from the Arabic word for the Levant, al-Shams. The handle provided graphic accounts of the IS war, based on information provided to him by his online followers. The account also had links to graphic images of executions and military operations.
Investigators for Channel 4 discovered that @ShamiWitness used a personal email address, [email protected] to set up @ElSaltador, a personal Twitter account he used prior to opening @ShamiWitness.
Based on this lead, Channel 4 was able to find that the same email address had also been used by 'Mehdi' to open personal LinkedIn and Google Groups accounts.
'Mehdi' told Channel 4 that he would have gone to join the IS himself, but his family was financially dependent on him: "If I had a chance to leave everything and join them I might have… my family needs me here," the report quoted him as saying.
According to the report, on his Facebook pages, 'Mehdi' shared jokes, funny images and talks about superhero movies, and posted pictures of pizza dinners with friends, and Hawaiian parties at work.
@ShamiWitness tweeted the video of the execution of US aid worker Peter Kassig, and dozens of Syrian soldiers within minutes of it being uploaded to the Internet, Channel 4 said. "May allah guide, protect, strengthen and expand the Islamic State … Islamic State brought peace, autonomy, zero corruption, low crime-rate", he wrote on Twitter in November.
News that a major IS-linked digital operation was running undetected in Bangalore, if established to be correct, will come as a major embarrassment for the government, which has long been warned by the intelligence services that they lack the tools and personnel to adequately monitor potential terrorist threats online.
The Indian Express had reported in August that NETRA, a super-secret National Technical Research Organisation project intended to enable India to monitor terrorism-related traffic, had come to a dead-end because of the lack of adequate resources.
In a recent article, Washington Institute fellow Aaron Zelin noted that digital propaganda played a key role in drawing western jihadists to Syria, adding that "the Syrian jihad is cool and a relatively comfortable activity compared to braving the wilderness in the mountains or deserts of Afghanistan, Yemen, Somalia or Mali. In Syria, for example, many foreigners have lived in villas with pools and video game rooms".
http://indianexpress.com/