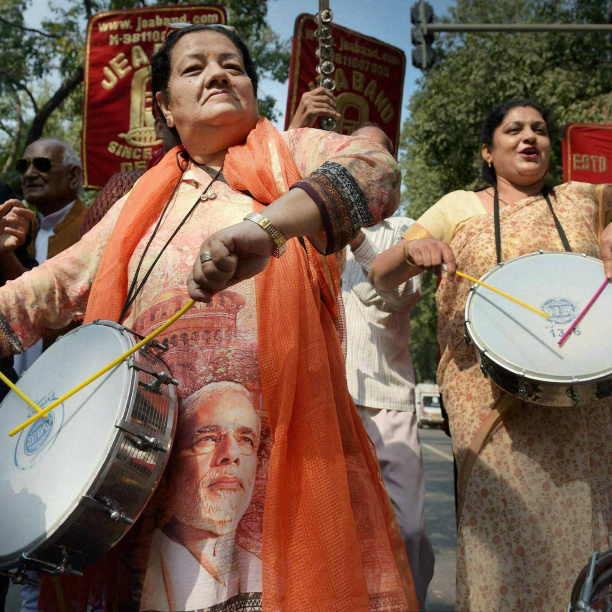 Counting of votes for the 288-member Maharashtra assembly and 90-member Haryana assembly has finished in the two states which went to polls on October 15. Haryana had recorded its highest-ever turnout of 76.54 % while Maharashtra recorded 63.13 % polling. The counting for the Beed and Kandhamal Lok Sabha bypoll has also come to an end.
BJP has stormed to power in Haryana by winning 47 of the 90 seats. It was a stunning improvement for the saffron party considering it was always considered as a minor force in the state and won only 4 seats in the last Lok Sabha elections.
In Maharashtra, BJP has emerged as the single largest party. It has won 122 seats. Sena is in the second position. NCP has thrown a curve ball by extending outside support to BJP. The highest decision making body of BJP is currently meeting to decide the future course of action.
20:20 ISTSunday, 19 October 2014
PM Narendra Modi calls Haryana, Maharashtra election results 'historic'
Prime Minister Narendra Modi on Sunday described as "historic results" the electoral victory in Haryana and Maharashtra and said it was a matter of immense happiness and pride for BJP.
Bihar will vote the Maharashtra, Haryana way: BJP
Jubilant over the party's performance in Haryana and Maharashtra, Bihar BJP Chief Mangal Pandey on Sunday said the results point to the voters' mandate for having the same government at the Centre and the state and that Bihar too would go that way in next year's Assembly polls.
Not suprised over NCP's move to back BJP government: Congress
Congress is "not surprised" over NCP's announcement that it is willing to extend outside support to BJP to form government in Maharashtra. A senior AICC functionary today said, "It was well- planned. Now it is playing out what I had apprehended long back. We are not at all surprised."
18:20 ISTSunday, 19 October 2014
Congress says NCP offering support to BJP is 'dirty politics'
The Congress on Sunday said the NCP's decision to offer outside support to the BJP to form government in Maharashtra was 'dirty politics'. "This must be the beginning of some deal between Praful Patel and the BJP, dirty politics has started," said Congress spokesperson Sandeep Dikshit. Amid speculation about a possible reconciliation with the Shiv Sena, the NCP today offered outside support to the BJP. Read More
17:46 ISTSunday, 19 October 2014
People voted for change in Maharashtra, Haryana: Rahul Gandhi
With Congress losing power in Maharashtra and Haryana, its President Sonia Gandhi and Vice President Rahul Gandhi said the party will now play a "constructive and vigilant role" in the two states where the people have voted for "change" after 15 and 10 years.
Congratulating BJP for its success, the Congress leadership also expected that parties forming the government will "fulfill the promises that they made".
"The Congress party accepts the election verdict delivered by the people of Maharashtra and Haryana with humility and resolves to play a constructive and vigilant role. Read more
17:20 ISTSunday, 19 October 2014
Modi wave still strong: Amit Shah
After emerging as single largest party in Maharashtra and clean sweeping Haryana, BJP state President Amit Shah on Sunday said that they will prove their mettle to people of those states. According to him, "This is the victory of public and party workers."
Stating that they did not break the alliance with Shiv Sena, Shah said, "We were true and the result in the states have proved it.
"After LS polls these were the crucial states and BJP won both. Till last time, we had not contested more than 26 seats in Haryana and 119 seats in Maharashtra. For the first time  BJP fought on 90 seats all by ourselves in Haryana and won. Even in Maharashtra we contested alone on 288 seats." he added. Read More
15:20 ISTSunday, 19 October 2014
NCP leader Prafull Patel has just announced that for the sake of Maharashtra and to provide stable government in the state, they will extend outside support to BJP.
"The people of Maharashtra have not given mandate to any single party. No party is in a position to form a stable government on its own. Keeping in mind the interest of Maharashtra people, we feel we should support the party which can form the government. Maharashtra needs a stable government.
"BJP has emerged as single largest party and we feel that we should given them support from outside so that they can form the government in the interest of the stability and development of the state," NCP leader Praful Patel told reporters here. The NCP, which was in the government headed by Congress for last 15 years in the state, has won 16 seats and was ahead in 27 others in 288-member Assembly.  Read More 
BJP hasn't outrightly rejected the possibility of taking help from NCP. BJP state presidentDevendra Fadnavis has reacted by saying that they will evaluate the situation before taking a final call in this matter.   "We are thinking on it. We will examine about reasons and conditions of their support to us. We will take a decision which is in the interest of Maharashtra," said state BJP chief Devendra Fadnavis. Read More
12:40 ISTSunday, 19 October 2014
BJP is all set to win in Haryana. It is currently leading in 54 out of 90 seats. In Maharashtra though, it is unlikely that the party will be able to form government on its own. It is leading at around 110 seats, nearly 35 short of the magic figure it needs to form the government. In this situation, the most likely scenario is party joining hands with Shiv Sena. But BJP is not jumping the gun too soon.
The BJP Parliamentary Board will meet in New Delhi this evening and decide on government formation as it emerged the single-largest party in Maharashtra and looked set to capture power in Haryana. All eyes are now on the meeting which will be attended by Prime Minister Narendra Modi and party chief Amit Shah as to the strategy it will adopt in Maharashtra — whether to go with its old ally Shiv Sena or seek support from others including NCP.
Sources said that the Board will decide on the political situation arising in Maharashtra where the party is not getting an absolute majority after breaking its alliance with Sena and may have to seek support from others to form a government of its own. "The BJP Parliamentary Board will meet today evening in the party headquarters to decide on further course of action and will assess the assembly poll results," a senior BJP leader told PTI.
The Parliamentary Board may also discuss on its Chief Ministerial candidates for both the states. However, a meeting of the BJP Parliamentary Party in both Haryana and Maharashtra will be held tomorrow to elect their leader. In Maharashtra, where the party may not get a majority, the BJP top brass will have to decide on whose support it will seek for government formation. "We will see the final results and then decide. Our top leaders will decide on the further action," said a senior BJP leader.
11:00 ISTSunday, 19 October 2014
Riding on the Modi wave, BJP today appeared to be emerging as the single largest party in Maharashtra and looked like capturing power in Haryana unseating the Congress in both the states as counting of votes in the assembly elections progressed. In keeping with the dominance the BJP displayed in both the states in the Lok Sabha elections early this year, latest trends in Maharashtra placed BJP as the top most party with leads in about 115 seats, over 30 seats short of the half-way mark of 145 seats in the 288-member assembly.
Its erstwhile ally Shiv Sena, with which the BJP may have to ally to form the government, was ahead in 63 seats. The Congress, which ran the government in coalition with NCP for the last 15 years, was placed in the third position leading in just 45 seats. Its former ally NCP was ahead in 45 seats. Both the formations–Congress and NCP and BJP and its oldest saffron alliance Shiv Sena–fought the elections this time on their own, without any alliance.
In the last elections, Congress had won 82 seats and its then ally NCP had got 62 seats. BJP and Shiv Sena could get 46 and 44 seats respectively then. In Haryana, BJP appears to be in a position to form the government with a majority. The party was leading in 47 of the 90 seats, two more than the half-way mark of 45. The INLD was ahead in 18 seats, followed by Congress at 13 and others at 8, according to trends.
In the last elections in Haryana, Congress had got 40 seats followed by INLD which had won 31. BJP had then got 4 and Haryana Janhit Congress (HJC) had won six.
Maharashtra is witnessing a five-cornered contest (Congress, Nationalist Congress Party, Bharatiya Janata Party, Shiv Sena and Maharashtra Navnirman Sena) with 4,119 candidates in the fray. BJP had fielded 280, Congress 287, NCP 278, Shiv Sena 282, BSP 260, MNS 219 CPI 34 and CPM had fielded 19 candidates. Of the 288 constituencies, including 36 constituencies in Mumbai, 234 are general, 29 reserved for Scheduled Castes and 25 for Scheduled Tribes.
This will also be the first elections in Maharashtra after established political formations – Shiv Sena-BJP and Congress-NCP crumbled and the parties contested alone after almost 15 years.
In Haryana, the fate of the Bhupinder Singh Hooda-led Congress government, which is aiming at a third successive term, and the BJP, which is eyeing to form a government on its own, will be decided. The result of who will come out victorious from the 1351 candidates in the high-stakes battle among top contenders Congress, BJP and INLD in a multi-cornered contest is sealed in the EVM machines. During the 2009 Assembly elections, Congress had won 40 seats, INLD 31, BJP four, HJC-BL six, SAD and BSP one each and Independents seven.
The key candidates
Maharashtra State:
Congress: Former Chief Minister Prithviraj Chavan , Praniti Shinde, Narayan Rane, Nitesh Rane, Rajendra Darda, Patangrao Kadam, Amit Vilasrao Deshmukh, Kripashankar Singh, Raosaheb Shekhawat, Dr. Nitin Raut, Awade Prakash Kallappa and Sachin Sawant
NCP: Ajit Pawar, Chhagan Bhujbal, RR Patil, Ganesh Naik, Jitendra Awhad, Gulabrao Devkar, Niranjan Davkare, Jayant Patil and Sachin Ahir
BJP: Pankaja Munde, Devendra Fadnavis, Ashish Shelar, Vinod Tawde, Eknath Khadse, Sudhir Mungantiwar, Vijaykumar Gavit, Mangal Prabhat Lodha, Ram Kadam, Kisan Kathore, Sanjay Kelkar
Shiv Sena: Subhash Desai, Dr. Ajeenkya DY Patil, Sada Sarvankar, Prakash (Bala) Sawant, Ravindra Waikar, Ravindra Phatak, Eknath Shinde, Pratap Sarnaik
MNS: Bala Nandgaokar, Shishir Shinde, Shubha Raul (former Mumbai Mayor), Nitin Sardesai
Haryana State
Congress: Chief Minister Bhupinder Singh Hooda, Randeep Surjewala
INLD: Former Chief Minister Om Parkash Chautala's son Abhay, daughter-in-law Naina and grandson Dushyant
Haryana Jan Chetna Party: Former Union Minister Venod Sharma and his wife Shakti Rani
Haryana Janhit Congress-BL: Former MP Kuldeep Bishnoi, his wife Renuka
BJP: State President Ram Bilas Sharma and Captain Abhimanyu, Vandana Sharma
Haryana Lokhit Party: Gopal Kanda, Bansi Lal's son and former BCCI President Ranbir Singh Mahendra
With agency inputs
http://www.dnaindia.com/india/report-assembly-polls-stage-set-for-counting-of-votes-in-maharashtra-haryana-2027415