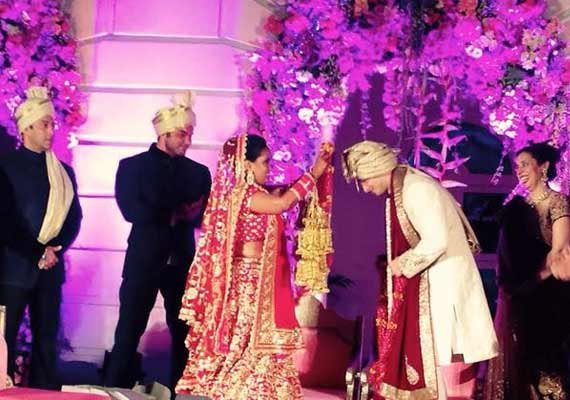 New Delhi: Arpita Khan and Aayush Sharma varmala ceremony is being performed inside the Falaknuma Palace while the Khan Family looks on.
Arpita's brothers Salman and Sohail Khan and father Salim Khan can be seen in the pictures.
Salman Khan is spotted in Falaknuma Palace lawn with Karan Johar and Kabir Khan at his siter Arpita Khan's wedding.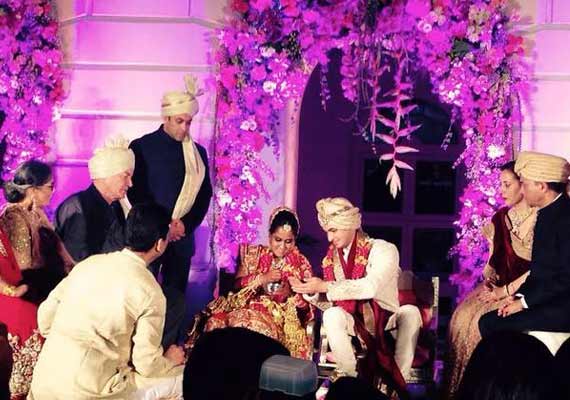 The beautiful bride Arpita Khan along with her soon to be husband is all set to start the new chapter of her life.
Follow the live updates from Salman Khan's sister Arpita Khan's lavish wedding here: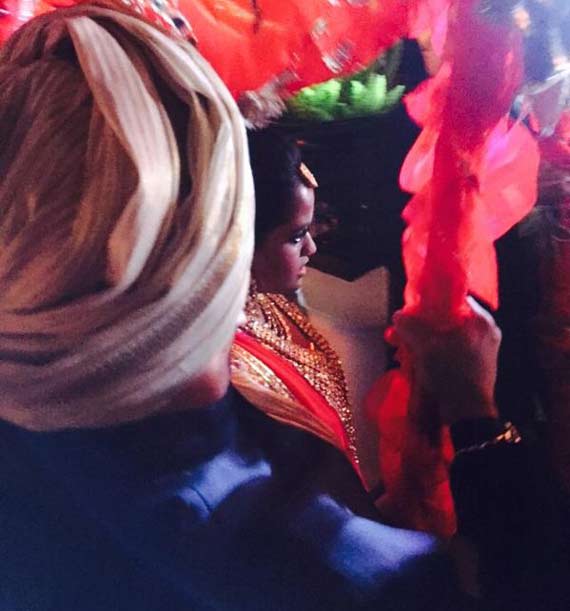 Just before the varmala Riteish Deshmukh tweeted a picture of beautiful bride Arpita Khan. Ritesh Deshmukh is considered very close to the Khan Family.
Amrita Arora who is sister of Malaika Arora Khan was spotted inside the Falaknuma Palace posing for a picture.
Salman Khan and the entire Khan clan are set to welcome groom Aayush at Hyderbad's Falaknuma Palace.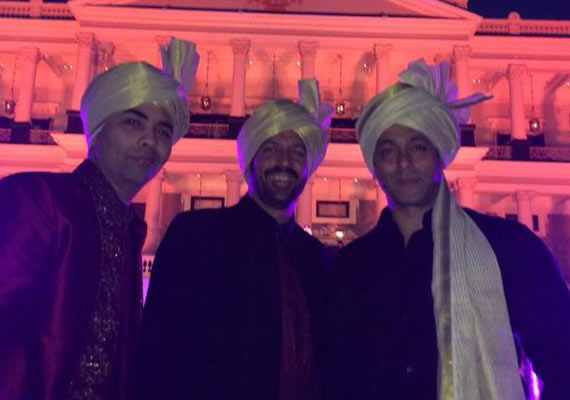 With the recent pics out from the wedding, Salman Khan can be seen standing with Kabir Khan and Karan Johar – all decked up in traditional ensembles outside the grand venue.
Arpita Khan and the ladies are surely waiting inside the lavish palace to welcome the baarat.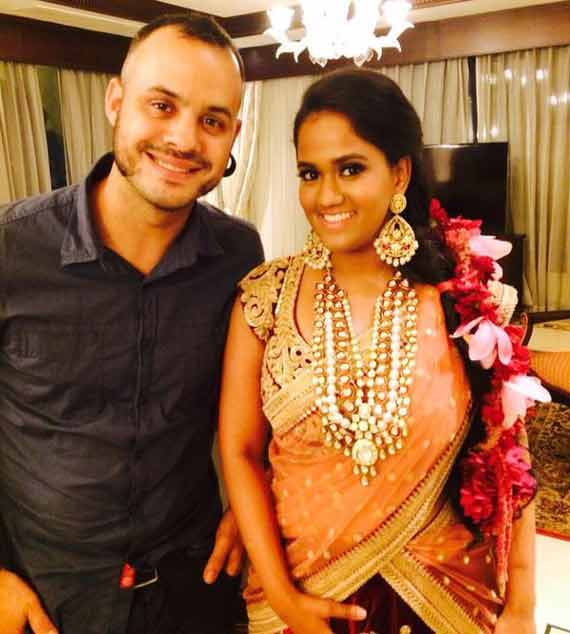 Earlier Arpita posed with her make-up artist Daniel Bauer who has helped Arpita to preapre for her wedding night.
Soon after the Mehendi ceremony consummated, the entire Khan family has rolled up their sleeves to bring all kinds of dazzles to their dearest Arpita Khan.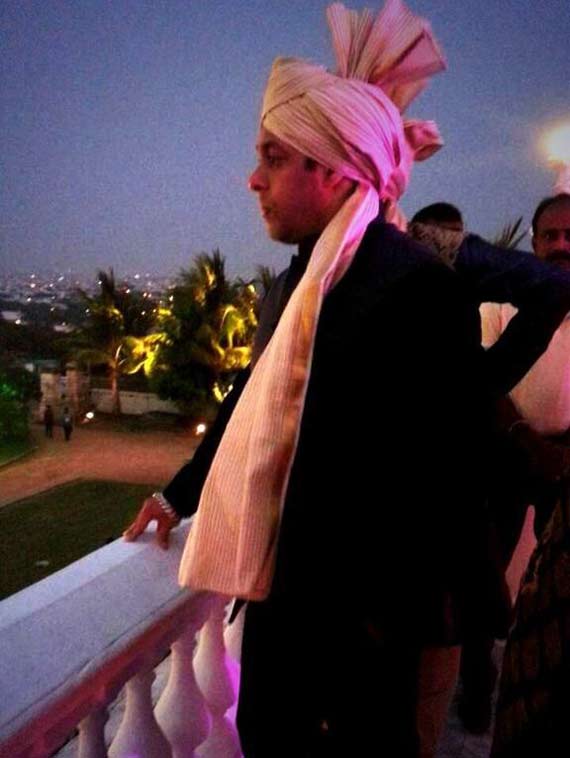 The Khans who have booked the entire Falaknuma Palace for the wedding are doing everything in style. The guests were presented with a gift pack containing snacks, chocolates, cookies and surprisingly a hang over kit too.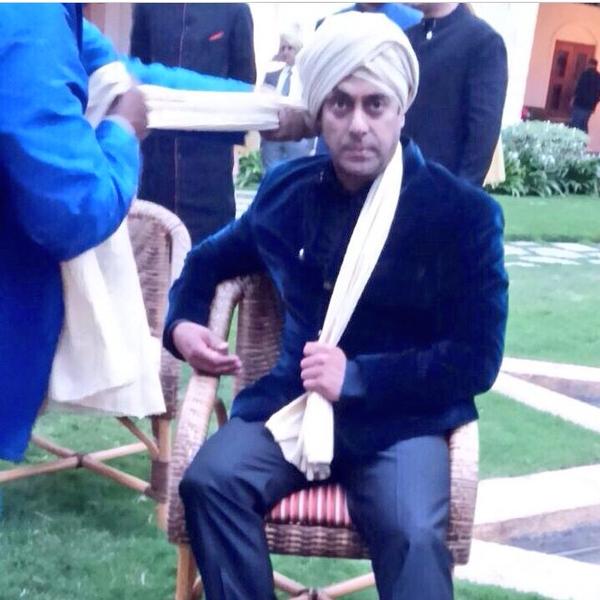 The bride's brother Salman Khan was spotted dressing up for the big event.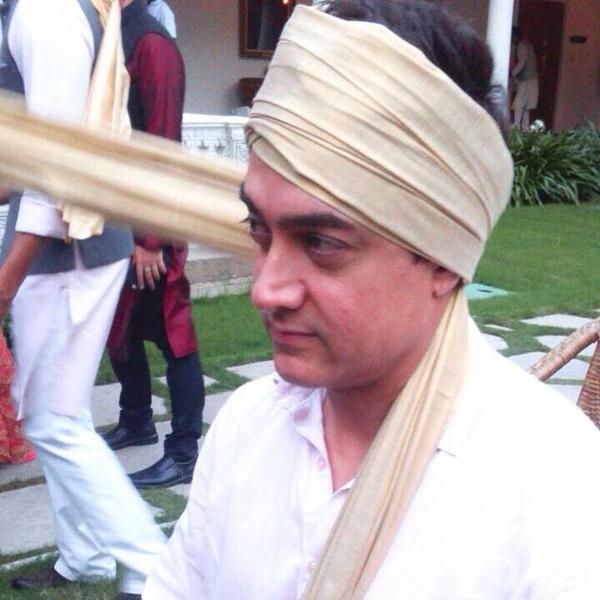 Salman's co-actor of 'Andaz Apna Apna' and his very good friend, Aamir Khan was seen gearing up for the wedding.
Salman Khan's brother Arbaaz was seen hanging out and showing the palace to his son before the wedding.  Dressed in a golden Kurta Arbaaz is getting prepared to say farewell to his beloved sister.
Wife of the actor Arbaaz Khan, Malaika was also spotted walking down the premises of Falaknuma Palace. Dressed in a green lehenga Malaika looked breathtaking in the picture.
Former beauty queen Priyanka Chopra was spotted on Mumbai Airport with her mother. Ready to board the plane Priyanka looked quite excited for the celebrations.
'Student of The Year' actor Varun Dhawan was also seen leaving the Mumbai Airport for the big Khan wedding. Speaking to the media the actor said that Arpita is his childhood friend and he wouldn't miss her wedding at any cost.
http://www.indiatvnews.com/