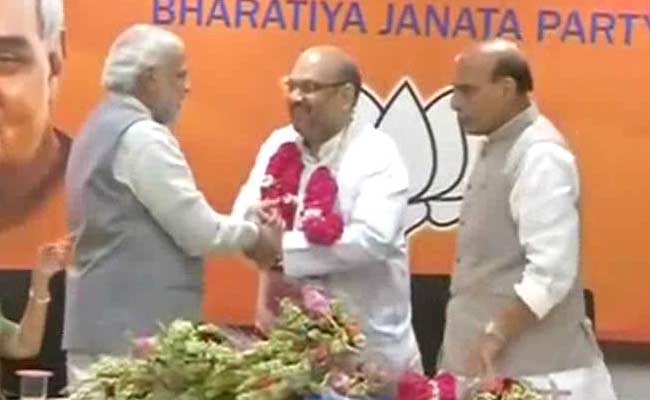 New Delhi:  Amit Shah, a close associate of Prime Minister Narendra Modi, is the new BJP president. His appointment was announced today in Delhi by Rajnath Singh, the man he succeeds. 

Instantly, Ahmedabad in Gujarat burst into celebrations. Not only is the country's Prime Minister from that state, but now so is the BJP chief.  
  
Rajnath Singh, with PM Modi by his side, said he had resigned this morning as he is now the Union Home Minister in the new BJP-led government. He said Mr Shah was unanimously chosen as the new chief by members of the BJP's parliamentary board, a group of 12 top decision makers. 
Mr Shah, who sat on the other side of Mr Modi, takes over with immediate effect. 

The 50-year-old leader had in May this year engineered a massive victory for the BJP in Uttar Pradesh, India's largest state, delivering 71 of the state's 80 parliamentary seats in the general elections. He has his immediate task cut out – the party needs him to repeat the magic in assembly elections due this year in states like Maharashtra, Haryana and Jharkhand.

A big win in these states is crucial for the BJP to improve its numbers in the Rajya Sabha, where it is in a minority. 

When Mr Modi was Chief Minister of Gujarat, Mr Shah served as his Home Minister, but had to resign in 2010 after he was alleged to have sanctioned a fake encounter by the state police, which saw three Muslims being killed by officers who alleged they were terrorists planning to assassinate Mr Modi.  

Mr Shah faces murder charges for allegedly allowing the extra-judicial killing of Sohrabuddin Sheikh, a small-time criminal, his wife and a witness. The BJP leader says the charges are a political conspiracy.

During the campaign for the national election, Mr Shah was banned by the Election Commission from rallies and speeches after it found him guilty of delivering "hate speeches" designed to promote "hatred and ill will" between religions.  (Amit Shah gets Election Commission notice for hate speeches in UP)

The ban was lifted after Mr Shah vowed in writing that he would not "use abusive or derogatory language in the campaign".
ndtv