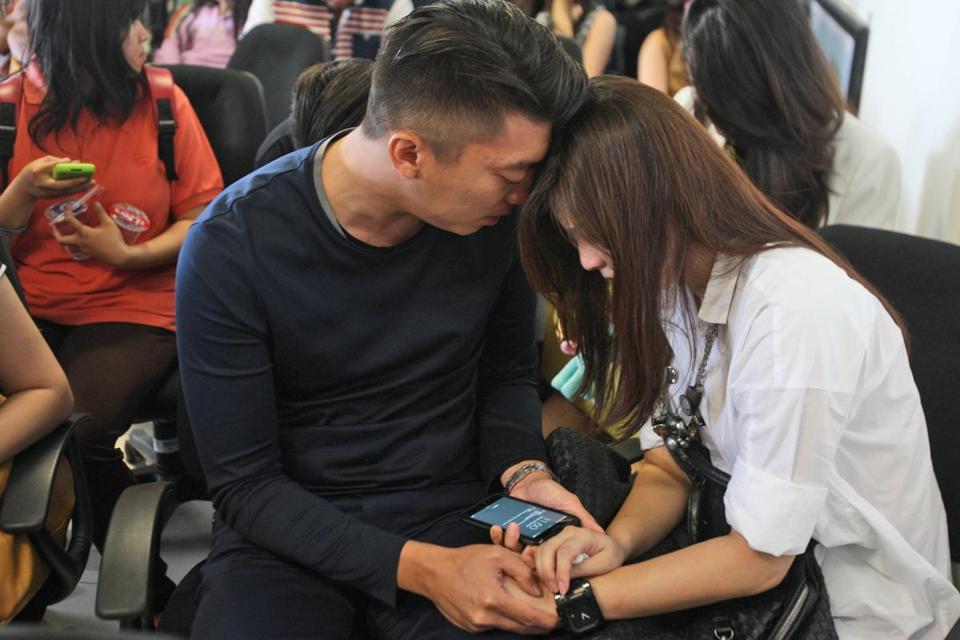 AirAsia flight QZ 8501 with 162 on board goes missing, search operations underway
An AirAsia plane with 162 people on board lost contact with ground control on Sunday while flying over the Java Sea after taking off from the Indonesian city of Surabaya to Singapore
AirAsia, a regional low-cost carrier with presence in several Southeast Asian countries, said in a statement that the missing plane was an Airbus A320-200, and search and rescue operations were in progress.
Flight QZ8501 lost communication with Jakarta's air traffic control at 7:24am Singapore time (2324 GMT Saturday) about an hour before it was scheduled to land in Singapore, the Singapore Civil Aviation Authority said in a statement.
The contact was lost about 42 minutes after the single-aisle jetliner took off from Indonesia's Surabaya airport, Hadi Mustofa, an official of the transportation ministry told Indonesia's MetroTV.
The Airbus 320-200 had 155 passengers (138 adults, 16 children and a baby) and seven crew members on board, another Indonesian transport official said. The passengers comprised 149 Indonesians, three Koreans, one Singaporean, one Briton and one Malaysian.
The plane lost contact when it was believed to be over the Java Sea between Kalimantan and Java islands.

A flight arrival information signboard shows the status of AirAsia flight QZ 8501 from Indonesian city of Surabaya to Singapore at Changi Airport in Singapore. Reuters
TV reports quoted an unnamed Indonesian official as saying the pilot who was flying at 32,500 feet had asked to fly at a higher altitude to avoid clouds in an area of bad weather.
Meanwhile, Chinese news channel CCTV reported that an aircraft crashed east of Belitung Island in Indonesia. But it was not confirmed whether it was the missing AirAsia flight.
The flight had been due in Singapore at 8:30am Singapore time (0030 GMT). The Singapore airport initially said on its website the status of the flight was "delayed"– and then changed it to 'Go To Info Counter'.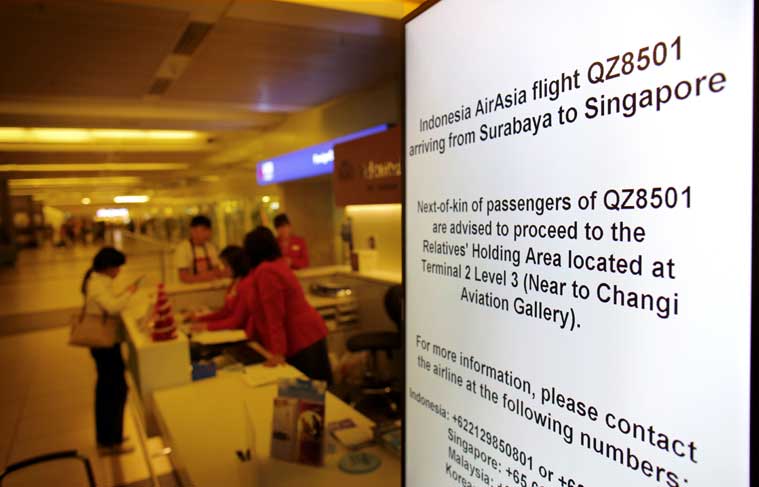 Singapore has activated its air force and navy to help in the search and rescue operation.
"Two C130s are already on stand-by for this purpose. We remain ready to provide any assistance to support the search and rescue effort," Singapore's Civil Aviation Authority said.
A waiting area as well as support centres have been set up for relatives at Changi Airport Terminal 2, it said.
AirAsia, a Malaysian low-cost airline, has established an emergency call centre that is available for family or friends of those who were on board. The number is: +622129850801.
The incident comes at the fag end of a disastrous year for Malaysia's airlines.
Malaysia Airlines lost two aircraft this year. Its flight MH370 went missing on March 8 on a trip from Kuala Lumpur to Beijing with 239 passengers and crew on board.
On July 17, flight MH17 was shot down over Ukraine, and all 298 people on board were killed.
AirAsia, which has dominated cheap travel in the region for years, has never lost a plane before.
AirAsia Indonesia regrets to confirm that QZ8501 from Surabaya to Singapore has lost contact at 07:24hrs this morning http://t.co/WomRQuzcPO
– See more at: http://www.hindustantimes.com